The United States has been experiencing shortages of many goods during the COVID-19 pandemic, from used cars to toilet paper. However, one of the most surprising shortages was the shortage of quarters.
The coin shortage was caused by various factors, including many retail businesses closing temporarily or reducing hours. Customers stopped using cash, fearing bills and coins spread the virus. And the U.S. Mint stopped making coins because of social distancing rules.
Coins, especially quarters, became a precious commodity when stores reopened. People who needed change for bus fares or laundry often searched desperately for change machines.
Can You Get Quarters In Your Area?
Coin shortages are making it hard for many consumers to do things like to feed a parking meter or wash laundry. After emptying the coin-operated washers in their building, some apartment dwellers have even asked their landlords to "sell" them back.
Most of the time, you don't have to resort to extreme measures. There are plenty of other places to get the quarters you need.
Banks
Banks keep quarters in $10 rolls containing 40 quarters each. That's enough for at least a couple of loads of laundry if you need a lot of quarters.
You can get quarters from your local bank if you have a bank account. You have to go to a teller there, not an ATM. The money can be drawn out of your account or exchanged for coins. Keep it to multiples of $10 to make the math easy.
You may have to go to several banks if you need more than one or two coin rolls. Some banks don't exchange money for non-customers. If you need more than one or two, call ahead.
Grocery stores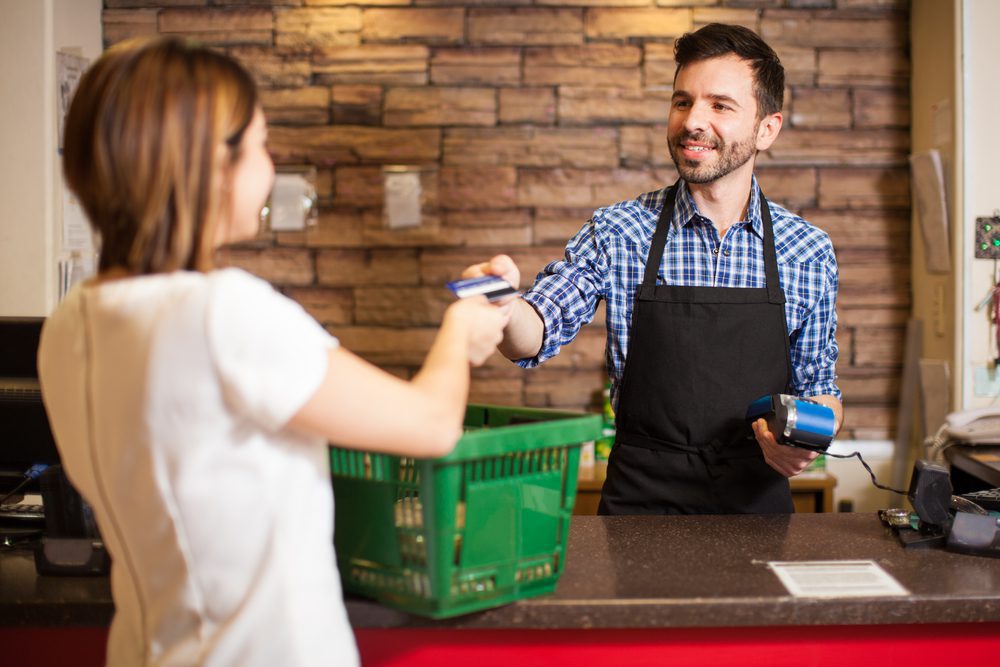 The easiest way to get quarters at a grocery store is to exchange a $10 bill for a roll of quarters at the customer service counter. However, the clerk may say no if you haven't bought anything.
Go to the checkout. You'll probably have to buy something minor, like a candy bar, to get the cashier to open the register. While the register is open, ask if you can change some bills for quarters.
Try paying with cash instead. Use a larger bill than you need – say, a $5 bill for a $1 purchase – and ask for quarters in change. Or pay with your debit card and ask for cash back.
You probably won't be able to get more than a few bucks worth of quarters this way. Grocery stores only keep a limited amount of change in the register. It's better to go to a bank if you want more than $10.
Convenience Stores
Convenience stores aren't the best places to shop for food. They don't have much selection, and their prices are high. But when you're looking for quarters, they're great.
Besides making a lot of cash transactions, they're likely to have change available. They're also open when other businesses are closed.
Getting quarters at a convenience store is as easy as asking the clerk for change. You may need to make a small purchase first so the clerk can open the cash register.
Also, if it's late at night, the cashier might not have a lot of change because it's all they've got to make it to tomorrow.
Pharmacy
Pharmacies, like CVS and Rite Aid, often have coins in the register and are often willing to exchange a few dollars worth for a customer. They also don't have as long lines as grocery stores.
Pharmacy clerks usually can't give you more than a few dollars worth of quarters without you making a small purchase first.
The gas station
Often, gas stations have cash registers with small changes. If the gas station has a convenience store attached, you can walk in and ask for change at the customer service desk.
You might need to buy something first. If you pay with a larger bill and ask for quarters in change or if you use a debit card, you can get $5 or $10 cash back. Maybe you can't get the whole amount in quarters, but you can ask for whatever quarters they have left.
You can get change if the station only has gas pumps but an attendant. Prepay for more gas than you plan on using, then go back in for a change. However, you may not get any quarters, since not all gas stations accept coins. The clerk won't be able to give you quarters if this station doesn't accept coins.
Fast food restaurants
A fast food joint is another kind of business that usually takes cash payments. Most fast food joints don't have customer service desks, but you can always ask for change. Do this at a time when it's not too busy to avoid holding up the line.
You'll probably have to buy something to open the register. Just like at other places, you can pay in cash and get quarters in change. Just don't expect to get more than a couple of dollars worth.
In an eatery with a tip jar, you can ask for quarters instead of dollars. A few bills are easier for the staff to carry than a bunch of small change, so the cashier is likely to agree. But always ask first before helping yourself out.
The vending machine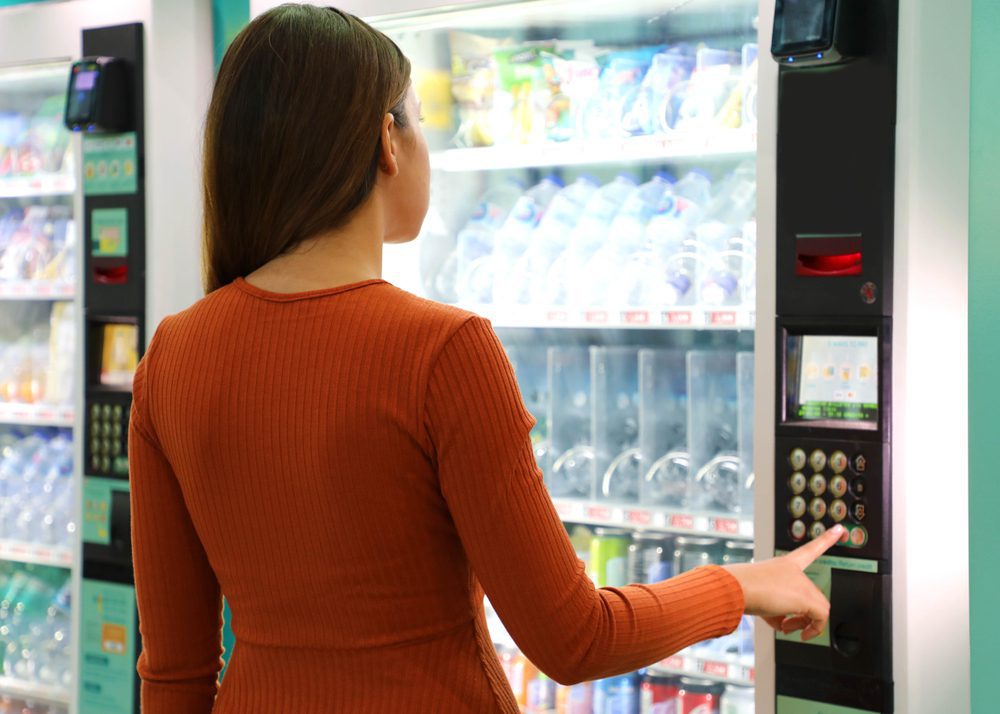 Most vending machines accept dollar bills and give you change in quarters. So you can put in two dollars, buy something for $1.50, and get two quarters back.
You'll get dimes or nickels if the machine is out of quarters. Also, you can only get a few quarters per purchase. So you'll need to keep buying more chips or soda to accumulate a few dollars.
You can hack soda machines by putting a dollar in, then immediately hitting the "return change" button. Some devices give quarters, while others spit your bill out again. You might end up with nickels and dimes instead.
Laundry facilities
Usually, laundromats use coin-operated machines. They need quarters to operate, so they have changed machines. And if they don't have one, they can change at the counter.
Laundromat machines don't always dispense quarters, so be careful. Instead, they give you tokens that only work in their washers. And some laundromats won't give you change unless you wash first. Make sure you ask the place about its policies before handing over a bill.
There aren't always people on duty late at night; even if there are, the register might be locked. Some laundromats are open 24/7, but they can't make changes.
The car wash
Car washes that charge by quarters usually have change machines in their office or near the entrance. They can make changes at the customer service desk if they don't.
Like laundromats, car washes don't always use quarters. Some have tokens that only work on their machines. So always ensure the change you get back is legal tender before you leave.
Games arcades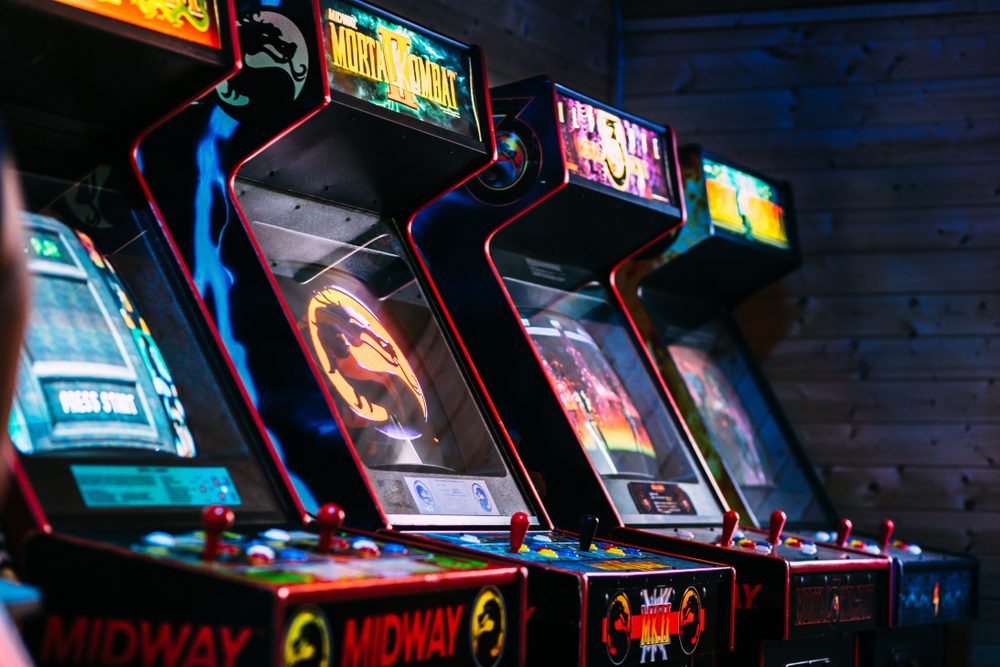 Most people nowadays prefer to play video games at home on their phones, computers, or a dedicated game system. Arcades aren't as typical as they used to be. A restaurant or bar with old-fashioned video games can be a great place to buy quarters if there's one nearby.
In the old days, video games took quarters and only quarters, so most arcades had a change machine or a cashier behind the desk.
Make sure you check the machine carefully before you feed your dollar in. Some arcades use tokens instead of quarters, which are not good anywhere else.
Retail chains
You can ask for change at any major retail store, including Walmart and Target. But if you haven't bought anything, they might not give it to you.
Try to pick up something you can use if you have to buy something to get change. A bottle of water, a piece of fruit, or even shampoo are good choices.
Change from a purchase
There aren't always cashiers at grocery stores, pharmacies, or other establishments who will give you change for your bills. The best way to get some quarters at a store is to buy something. They always have change if you pay in cash.
When you get cash back with a debit card, you can specify that you'd like as much of it in quarters as possible.
Family, friends, and coworkers
Ask around if you need quarters in a hurry. Friends, family, and coworkers may be happy to turn loose change into folding money.
In times of coin shortages, people may hold onto their quarters. So be gracious if people say no. And if they say yes, be prepared to return the favor next time they need change.
In conclusion
Nowadays, people tend to use credit cards, debit cards, and payment apps for most of their transactions.
Almost all machines that used to take quarters can now accept credit cards. Vending machines, railway ticket machines, and even parking meters take card payments. Laundromats, car washes, and arcades can use tokens. E-ZPass and SunPass are usually accepted at toll booths.
The old laundromats, vending machines, and so on still use quarters. And they're great for yard sales.
Even if you don't use quarters often, you never know when you'll need some. By hitting the bank or the convenience store today for a few quarters, you'll be sure to have some next time.