Ad Disclosure: We receive referral fees from advertisers. Learn More.
Nectar is a US-based firm based in Palo Alto, CA. If you have taken even a fleeting glimpse at the bed-in-a-box industry, you're sure to have seen the classic Casper memory foam mattress.
This flagship mattress comes with a triple layer of memory foam so you'll get remarkable pressure-relief along with efficient motion isolation.
Before we break down how this mattress is made and how it feels, who should buy the Nectar mattress? Perhaps more importantly, who should avoid this mattress?

Who Should Buy Nectar
For anyone on the trail of a bargain, you can't match the price/performance ratio on offer with the iconic Nectar mattress
Do you easily wake when your sleep partners moves in the night? If so, the highly efficient motion isolation ensures that you won't end up disturbed by noise when your partner shifts in their sleep
Hot sleepers will appreciate the way the Nectar absorbs less heat than many all-foam mattresses
As long as you weigh 130 pounds or more, the Nectar will suit side, stomach, and back sleepers making it a highly versatile mattress
Who Should Avoid Nectar
If you weigh less than 130 pounds, you might find this mattress feels a little too firm for comfort
The extreme body-contouring gives a cradling feel you might not like if you prefer to sleep on rather than in a mattress
So, as long as you aren't especially lightweight and you're not looking for a super-soft mattress, how is the Nectar made up?
Construction
Cover
Comfort Layers
Transitional Layer
Support Layers
Cover
The Tencel blend of cotton and lyocell gives you a breathable cover that you can slip up with ease. The cover is machine washable for your convenience.
Comfort Layers
Nectar mattress comes with a pair of comfort layers. The top layer is 1" of gel-infused quilted memory foam. The 3" secondary layer of gel memory foam ensures you get a closely-contouring sleep. You should also find that these comfort layers prevent pressure points from spiraling out of control. Spinal alignment should also be promoted, even in side sleepers.
Weight distribution is even so you'll find this mattress makes a smart choice if you're a heavier sleeper.
Transitional Layer
The memory foam transitional layer is a bonus since most of the competition opt for polyfoam in this additional layer.
By shoehorning in this extra memory foam, the mattress will hug your body all the more. Despite this, you shouldn't experience any sagging, even if you weigh more than 230 pounds.
Support Layers
The support core of the Nectar mattress is 5.25" of high-density polyfoam. The firm base acts as a great foundation for the softer layers above.
How does all this impact the firmness and feel, then?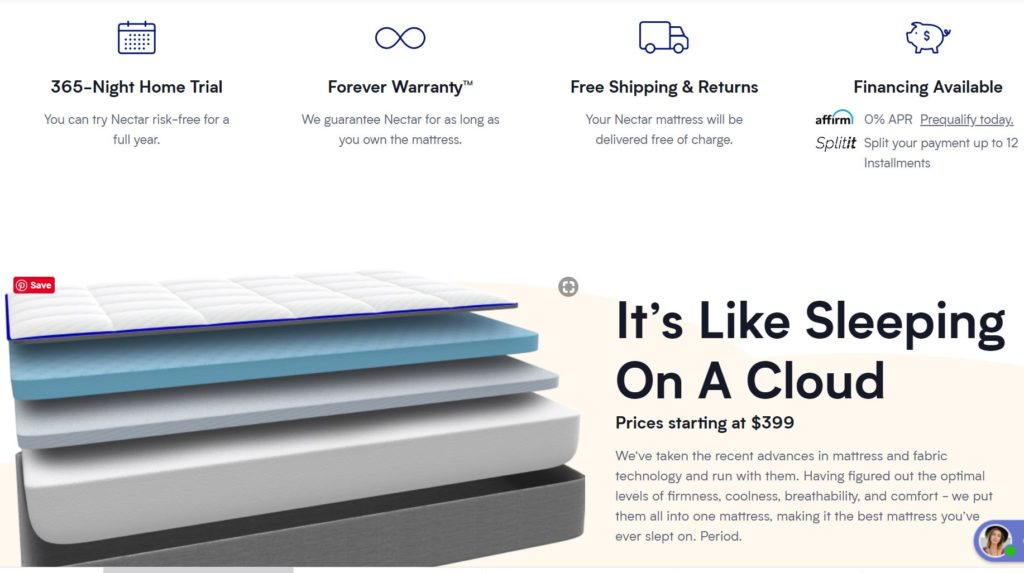 Firmness and Feel
The Nectar mattress is medium-firm.
If you like sleeping surfaces with ample contouring and aggressive cradling, you'll love the Nectar mattress. With 4 layers in total and an abundance of memory foam, you could find this mattress beneficial if you suffer from chronic pain. You'll feel cradled without sacrificing the support you need to prevent further aches and pains kicking in.
Nectar Sleep rates the mattress as 6 on the firmness scale.
Mattress Height
This mattress is 11" thick. This means it's very slightly thicker than average but does not qualify as high-profile.
Verdict
Nectar mattress delivers a surprisingly refined and balanced sleeping surfaces for such an affordable model. While it's not exactly a giveaway, you'll find this memory foam extravaganza comes in cheaper than most of the opposition.
Sleepers of most weights should find this mattress supportive and comfortable. The only exception is much lighter sleepers. If you tip the scales at less than 130 pounds sopping wet, you'll likely find the feel of this mattress too firm and unforgiving. For most other users, the sharp contouring and intense body-hugging feel of the Nectar will be welcome.
Although it's only a medium-profile mattress, it's slightly taller than average. This extra height comes in handy if you find problems getting in and out of bed.
The mattress also performs well regardless of your sleeping position. Even side sleepers should find they get precisely the sleeping environment they're looking for so the Nectar is one of the most flexible sleeping solutions out there.
In spite of the bargain-basement pricing, you'll get first-class build quality. Lifespan is impressive with most users reporting no serious signs of wear even after several years of use. The Nectar mattress is a solid all-rounder at a price you'll love.