Background
Tattoo art is common in Eastern Polynesia, home of the Māori. Artists employed similar traditional tools and methods to those utilized elsewhere in Polynesia.
In Māori culture before the advent of the Europeans, the vast bulk of all high-ranking Māori designs received moko. Moko was inextricably linked with elevated social status (mana). That said, some elite individuals were considered above moko. It was also considered unsuitable for some tohunga.
Receiving moko forms part of a crucial transition from childhood to adulthood. This is accompanied by various rituals. Not only does moko signal status, but it was also traditionally used to make people more attractive to others. For men, moko is generally received on the face, buttocks, and thighs. Occasionally, it's applied to the calves, backs, and stomachs of men, too. Women typically wore moko on their chins and lips. Sometimes, moko is applied to the buttocks, thighs, and necks.
Instruments used
The skin was traditionally carved using chisels (uhi) instead of the puncturing process used in regular tattooing. The skin was resultantly left with grooves in place of a smooth surface. Needle tattooing gained prominence, but a 2007 report showed that uhi was still being used.
Moko specialists (tohunga-tā-moko) originally used a variety of uhi fashioned from albatross bone. These were fixed on a handle and tapped with a mallet. Pigments came from burnt timbers and the soot from scorched kauri gum mixed with fat. This pigment was stored in intricate vessels called oko. These were frequently buried when not in use. Oko were handed down to successive generations. A kōrere or feeding funnel was used to feed men after receiving tā moko left them with swollen mouths.
Most tā moko specialists were men, although a handful of women also took up the practice in the early 20th century.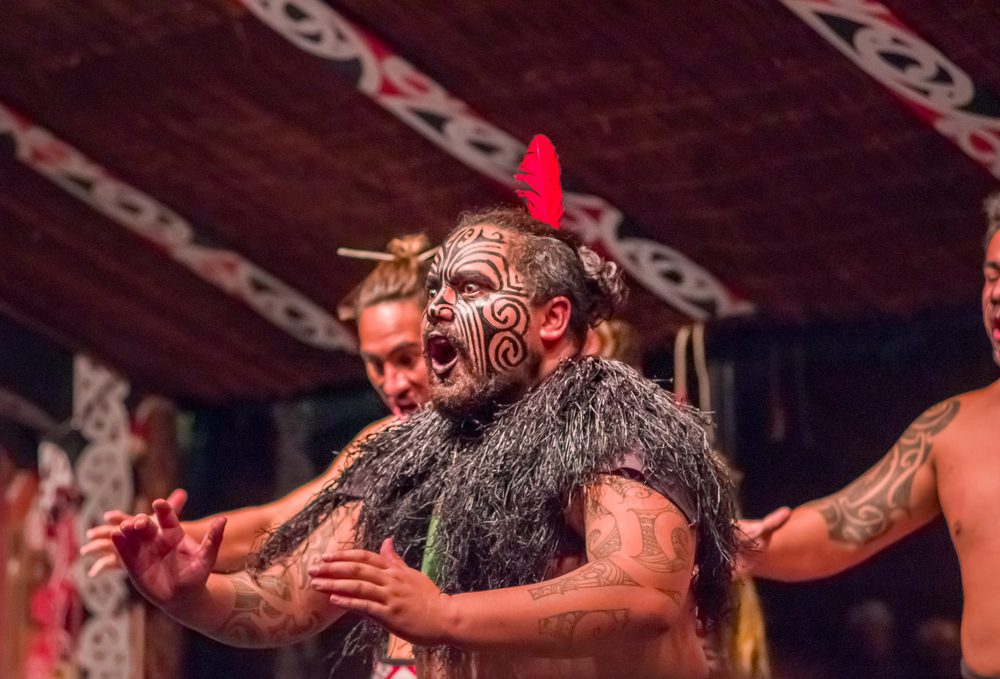 Changes
The pākehā practice of collecting and trading tattooed heads (mokomokai) changed the whole dynamic of tā moko during the beginning of the colonial period. When the uhi was replaced by the needle, so the feel of the tā moko shifted to smooth. Tā moko on men stopped some time in the 1860s as fashion and mores changed.
Women still received moko into the early 20th century. They were traditionally tattooed on the lips, chin, and occasionally the nostrils.
Tā Moko Today
The practice of tā moko has seen a revival since 1990 for men and women.
Most tā moko today is performed with a tattoo machine, but the use of uhi persists.
In 2000, Te Uhi a Mataora was established to preserve and develop tā moko.
In 2016, Nanaia Mahuta, a New Zealand politician, had a moko kauae. Upon assuming the role of foreign minister in 2020, one writer commented that a facial tattoo was unsuitable for a diplomat. Much support gathered behind Mahuta who commented that moko was not representative of gang culture but rather a positive aspect of the revitalization of Māori culture.
Use By Non-Māori
Europeans became aware of tā moko from James Cook's first voyage. The first Māori visitors to Europe, like Moehanga (1805),Hongi Hika (1820), and Te Pēhi Kupe (1826) all sported full-face moko. Until recently, though, this artform had minimal global impact.
If non-Māori wear tā moko, this can be considered cultural appropriation. High-profile examples of Māori designs being used by non- Māori include singer Robbie Williams, and fashion designer Jean-Paul Gaultier.
To satisfy the demand for Māori designs in the appropriate manner, the Te Uhi a Mataora group encourages the use of the term kirituhi. This has now been widely accepted, and means "drawn skin" when translated. Where Moko demands a process of genealogy, historical information, and consents, Kirituhi is just a design with a Maori hue.
Clearone Advantage
,
Credit Associates
,
Credit 9
,
Americor Funding
,
Tripoint Lending
,
Lendvia
,
Simple Path Financial
,
New Start Capital
,
Point Break Financial
,
Sagemore Financial
,
Money Ladder
,
Advantage Preferred Financial
,
LoanQuo
,
Apply.Credit9
,
Mobilend
Comments Rating
( reviews)