All bar and restaurant owners are looking for one main thing- something to keep patrons around for a longer period. You want to encourage them to order more food and drinks and return as much as possible.
You can accomplish this by offering daily happy hour deals, delicious food, and of course, entertainment. Bar games are some of the best types of entertainment for your patrons. Take advantage of the following bar games to increase your profits.
Chess
That's correct – the age-old game of chess will keep your patrons interested for a long time. Chess has a way of making people feel smarter just by having a board at their table. The Queen's Gambit made everyone believe they secretly have an amazing chess talent. It is one of the best options in the complete list of bar games. Additionally, you can find there more games to be played that are perfect for family-friendly establishments or bars with a younger audience.
Trivia

Engage a local trivia expert to organize an entertaining event for the audience. Many bars and breweries already host weekly team trivia nights. Others conduct music trivia with devoted audiences while song clips play and teams scramble to remember their names.
You can take advantage of the tried-and-true options for general knowledge trivia or conduct themed trivia. Please pay attention to your audience and determine what they want before going forward.
Cornhole
This is an excellent game to enjoy over some good beer and good weather. Cornhole is a classic game ideal for beautiful days outdoors, even though it is one of the most straightforward pub games.
If you have some room, move the game indoors and take advantage of your vacant brewery or event area. Getting people together for a tournament keeps them interested and excited for more.
Bridge
There isn't a better time to bring back Bridge. The game is easy to organize (you only need a few packs of Bicycle cards), and the competitions are open to everyone. It is no longer reserved for housewives from the 1950s. However, there is no reason you can't have a theme night.
Air Hockey
Air hockey is just plain enjoyable and a great throwback to youth. You will attract customers from all around the state and beyond by offering air hockey tables and other unusual arcade games.
Foosball
Foosball is a small, portable game that stands out at breweries and bars. It is ideal for most taproom atmospheres, and your patrons will keep coming back. The best thing about foosball is that it appeals to most audiences. It is easy to assemble, and a good foosball table comes at a decent cost.
Bocce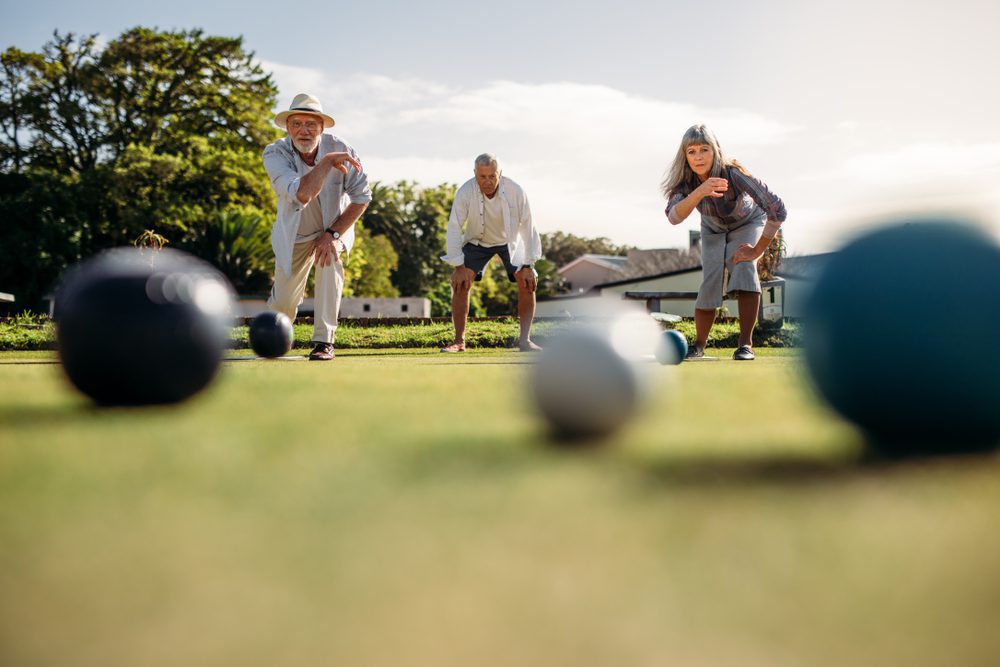 Bocce is a terrific game to break the mold because it is a team game. It features lots of colorful balls on a beautiful green court. Depending on your space needs, you can have bocce courts in your outdoor bars. For formal league status, go one step further and sign up with the American Bocce Company.
Volleyball
If you are trying to master large outdoor games, consider offering volleyball for your patrons. It attracts a lot of excitement and competition. Sand volleyball is a fun activity. It gets even better with some fantastic beer. Whether you are targeting customers that want some casual play with friends or some fierce competition, volleyball is a fantastic option.
Playing cards
Bicycle cards are great. You can play the strategy card game with at least two decks, and patrons will always enjoy the challenge. Card games are fun, easy to play, and appropriate for all demographics.
Cards Against Humanity
In all honesty, any chance to crack a few adult jokes in the taproom is usually welcomed. Players decide whatever rating of Cards Against Humanity they want to play, and everyone can have a lot of fun.
The restaurant and bar business is all about gaining some competitive advantage. Bar games are giving some savvy venues "the edge'' they need to shine in the industry. If you aren't already doing so, it is time to start offering bar games to your patrons.