Psychic Access: Overview
Psychic Access may be smaller than some of the other psychic networks that we review but they make up for it with a track record of honest psychic readings for 15 years.
Online psychic platforms are on the rise. This means more opportunities for scam artists masquerading as genuine psychics to exploit vulnerable people. It's important that you work with a psychic reading network that you can trust.
These are strange times we are living in. Uncertainty is heightened for every human on the planet right now. Maybe you're confused about what to do about money or your career? Or, perhaps you're at a crossroads in your marriage or relationship? Or do you have burning questions about your pet? It's certainly tempting to engage with a psychic, especially if they claim to be able to find answers for you.
But, these online services don't come cheap. These sites are ubiquitous and the market is flooded with people who claim to be genuine psychics. Many people have lost hundreds, even thousands of dollars to people out to make a fast dollar from their worries and stress. We don't want you to be added to these statistics.
If you're after genuine answers please take care to research each platform carefully. We understand this can take some time so we've done the hard work for you. We've reviewed many psychic platforms to assess their level of integrity and credibility so you don't have the heartache of losing money for a load of old baloney.
Here, we're checking out Psychic Access.
4.0 out of 5.0 stars4.0
Psychic Access: How it Works
Psychic Access say they pride themselves on their rigorous selection process which includes lengthy in-depth interviews with highly trained psychic staff and trial readings.
They say that only 1 in 8 applicants get through the first screen, then it's 1 in 20.
To book a reading you press "Call Now" and you'll be taken to the registration page where you input your details and payment details. When you've added funds you can call or book a call with a psychic.
Pros
Rigorous screening process
Won't misuse or sell your email address
Caps on spending amounts
Issues credit refunds if the customer has a bad experience (which is rare)
They discourage feedback using words such as "fake" or "scam" but won't remove it
Cons
Smaller selection of psychics than some of the larger psychic reading networks
Type of Psychic Services
The type of psychic service you choose to engage will depend on the nature of your question. These are a few of the types of psychic service available.
Clairvoyant: A clairvoyant can intuit information about the past of an object, person, or place to channel wisdom for challenging times.
Pet Psychic: If your pet is showing unusual behavior or you wonder what their early life was like a pet psychic can communicate telepathically with animals. A pet psychic can relay conversations between you and your pet even if they are no longer with us.
Clairsentient: Clairsentients use their deep ability to internalize others' vibrational field. They are so sensitive to negative and positive energies from the metaphysical realm that it can even affect them physically.
Empath: Empaths embody the feelings of others. They are deeply sensitive and absorb the energies of people and places around them.
Clairaudient: Clairaudients tend to be confused with schizophrenics due to their ability to hear sounds and voices from other dimensions. If you're hoping to receive wisdom from the spirit world, a clairaudient can channel messages from those since departed.
Medium: Mediums can sense energetic images, forms, or feelings related to a person to help answer pressing questions.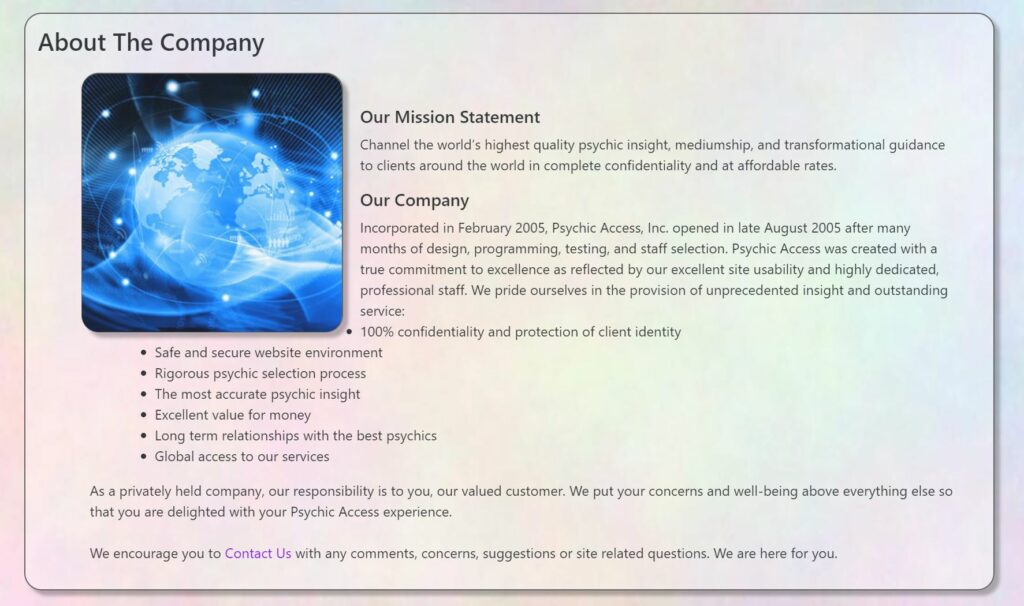 Trustworthiness of Psychic Access
We didn't find any negative reviews on Psychic Access's website or elsewhere on the net. Apparently, Psychic Access is running a clean operation and takes its reputation seriously.
Psychic Biographies on Psychic Access
The site is straightforward, simply designed, and easy to navigate. Each psychic bio has a profile picture, introductory video, schedule, and reviews.
Pricing
Each psychic's rate on their profile which they set themselves. Rates vary from $4-$6 a minute and payment is by credit card or PayPal.
The Verdict
Psychic Access is running a solid operation. While they may not be the biggest on the web, they seem to be a trustworthy company that takes their reputation seriously.
Clearone Advantage
,
Credit Associates
,
Credit 9
,
Americor Funding
,
Tripoint Lending
,
Lendvia
,
Simple Path Financial
,
New Start Capital
,
Point Break Financial
,
Sagemore Financial
,
Money Ladder
,
Advantage Preferred Financial
,
LoanQuo
,
Apply.Credit9
,
Mobilend
Psychic Access
Psychic Access Review
Psychic Access may be smaller than some of the other psychic networks that we review but they make up for it with a track record of honest psychic readings for 15 years.
Comments Rating
( reviews)