Ad Disclosure: We receive referral fees from advertisers.


Learn More
Accredited Debt Relief can match you to appropriate debt relief programs so you can tackle what seems like insurmountable debt. This company is not the most competitive when it comes to savings generated and opinion about customer service is mixed. If you're looking to avoid bankruptcy and you need some professional advice, it's worth speaking with Accredited Debt Relief.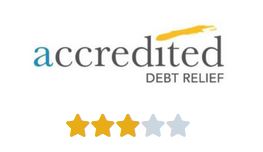 Highlights
You won't be limited to one type of debt relief program
Application process is seamless
Overwhelmingly positive customer opinion
Trade-Offs
Fees vary dramatically between partnering providers
Some debt relief partner companies fail to deliver as promised
You're likely to receive many calls from other companies
What Is Accredited Debt Relief?
Accredited Debt Relief differentiates itself from most mainstream debt settlement companies. They act as a matching service so you can find the most suitable debt relief program for your needs.
They can help you with debt management, debt settlement, and debt consolidation. This gives you a great deal of scope when formulating your best strategy to pay down mounting debt.
Unlike most similar companies, ADR also considers secured debt.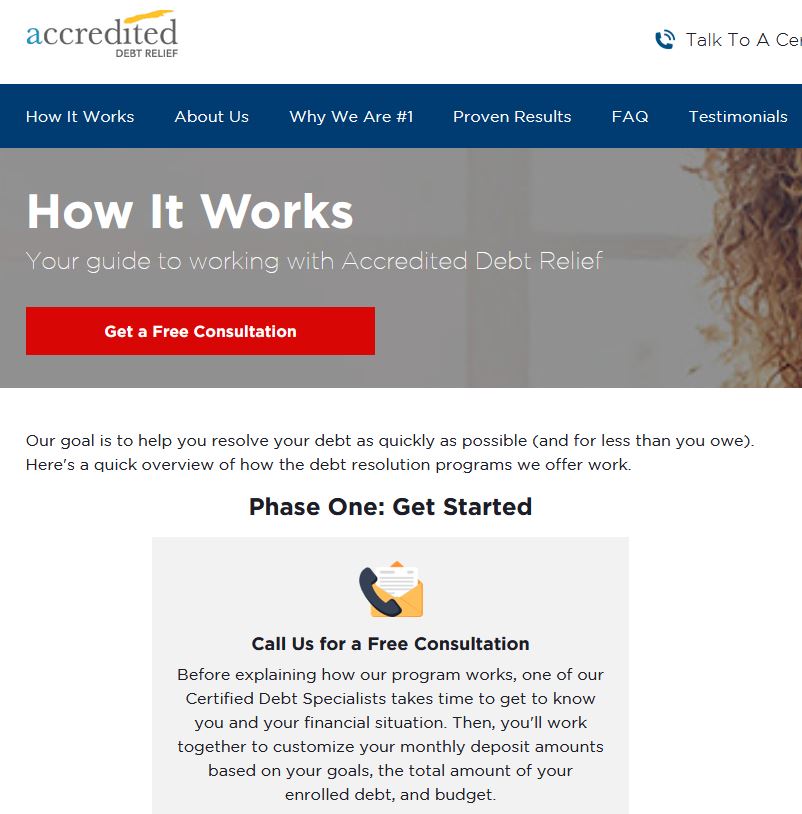 How Does Accredited Debt Relief Work?
If you have debts totaling at least $10,000, you use this service by taking a free consultation first. You'll work with a dedicated representative until you find and sign up for a program meeting your requirements.
You can expect negotiations to commence a week or so after signing up for the program. At this point, you'll open up a bank account into which you'll make monthly payments for Accredited Debt Relief to draw upon.
If this form of debt settlement is not the optimum approach given your circumstances, you can explore what further assistance is available.
Accredited Debt Relief Summary
Accreditation: American Fair Credit Council, Better Business Bureau, International Association of Professional Debt Arbitrators, San Diego Regional Chamber of Commerce
Consultation: Free online or phone consultation (toll-free number)
Costs: 18% to 25% of total debt enrolled. Fees vary from partner to partner
Customer Service: Email or phone
Debts accepted: Secured and unsecured debt. $10,000 minimum debt considered
Free resources offered: None
Restrictions: Accredit Debt Relief operates in 32 states
Service offered: Debt settlement through third-party negotiations, debt consolidation, debt management, legal services
Trust ratings: BBB rating of A+ and 9.4 Trustpilot score
Turnaround time: 24 to 60 months or more
How Much Does It Cost To Use Accredited Debt Relief?
You won't need to pay any upfront fees.
Settlement fees are typically 18% to 25% of the enrolled debt at the time of settlement rather than enrollment.

What Could You Save With Accredited Debt Relief?
How much you could save depends on the program you choose.
With debt settlement, expected savings are 25% to 30% of your enrolled debt. You should note that this is before taxes are considered. The IRS typically treats settled debt as taxable income so think about your tax bracket and use this to determine potential savings before you commit to any program.
The debt management service could see your interest rate drop from 9% to 6%.
With debt consolidation, savings are contingent on too many factors to give even a rough average.
How To Sign Up With Accredited Debt Relief
You can schedule your initial consultation online.

Go to the Accredited Debt Relief website
Choose the amount of debt from the drop-down
Enter your contact details then hit Click here to see if we can help
Click Free Consultation
What's Next?
Once you have scheduled your free consultation, just wait for the ADR customer care representative to call for some further details.
You'll discuss the options at your disposal and find a matching program. The team member will then guide you through the enrollment process in question – these will differ from partner to partner.
If you're opting for debt settlement or debt management, you'll be assigned a dedicated account manager for the duration of the program. They will show you how to set up a non-interest trust account so you can make monthly payments to Accredited Debt Relief instead of paying your creditors.
With debt consolidation, the structure of repayments depends on the partner company you're taking a loan with.
Verdict
If you're in extreme financial hardship and you don't know what to do next, a company like ADR can be beneficial in providing you with a broad spread of workable options short of bankruptcy.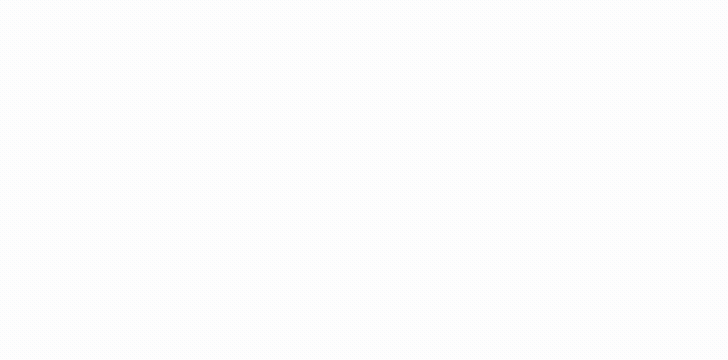 Whether you want debt settlement, debt management, or debt consolidation services, this powerful middleman can connect you with companies ready to do business.
Accredited Debt Relief
Accredited Debt Relief Review
Accredited Debt Relief is not the most competitive when it comes to savings generated and opinion about customer service is mixed. It is also unclear if they are negotiating with the creditors directly or are outsourcing to another debt relief company.