Ad Disclosure: We receive referral fees from advertisers. Learn More.
The Saatva HD hybrid mattress we'll be reviewing today is designed with heavier sleepers in mind. This demographic often finds regular mattresses unsupportive with too much sinkage. You won't find this with the Saatva HD, even if you weigh north of 300 pounds.
Saatva has been selling mattresses directly to consumers since 2011. They are among the most visible and reputable of these brands with a decade of experience helping people just like you.
Now, before we highlight how this mattress is made, a few pointers about who should buy the Saatva HD mattress and who should move on to the next bed-in-a-box.

Who Should Buy The Saatva HD
If you sleep hot, you'll appreciate the comfort layer made out of ventilated latex on this mattress. It's quite breathable while also promoting outstanding airflow. You'll experience a cool and consistent temperature with the

Saatva HD mattress

This mattress is expressly designed for larger sleepers so anyone weighing over 300 pounds should find this sleeping surface remarkably supportive
If you enjoy a body-conforming mattress, but you like this balanced with sufficient responsiveness, you'll get the best of both worlds with the Saatva HD
Fantastic motion isolation makes this mattress a neat choice for couples. If you're disturbed by the noise from your partner moving during the night, you're in safe hands here
Who Should Avoid The Saatva HD
If you weigh less than 300 pounds, chances are the Saatva HD will not be the best fit. You're quite likely to find this mattress feels slightly too firm if you're a lightweight sleeper
Assuming you tip the scales at 300 pounds or more, then, how is the Saatva HD mattress made? More importantly, how does this affect firmness and feel?
We'll probe those issues right now.
Construction
Cover
Comfort Layers
Transitional Layer
Support Layers
Cover
The Euro top cover of the Saatva HD mattress has additional cushioning crammed in to make the mattress feel super-soft.
You get 2" of polyfoam in this layer and it's hand-tufted so the shape of this mattress remains intact. The organic cotton is not only sustainable, but also remarkably soft to the touch.
The fire-retardant barrier on this mattress is made from natural thistle. This makes the HD a smart choice for vegans or anyone who dislikes the idea of fire-retardant chemicals in their mattress. Embrace an all-natural alternative instead.
Comfort Layers
Saatva HD mattresses come with 2 comfort layers.
On top, you get 1.5" of Talalay latex. This is highly durable and incredibly responsive. This latex is zoned so different body areas benefit from different levels of support. This latex is also ventilated to encourage cooling.
There's also a 1.5" comfort layer of memory foam in place. This is quite high-density and closely-conforming. In addition, the memory foam enhances motion isolation.
Transitional Layer
2" of polyfoam acts as a buffer between the comfort layer and the support core.
This polyfoam is firm and dense. It stops you from sinking too deeply into the mattress.
Support Layers
6" of offset coils in the support core are made from recycled steel.
These coils vary in thickness to offer varying degrees of support across the body.
Beneath the coils, 2" of high-density polyfoam adds even more support.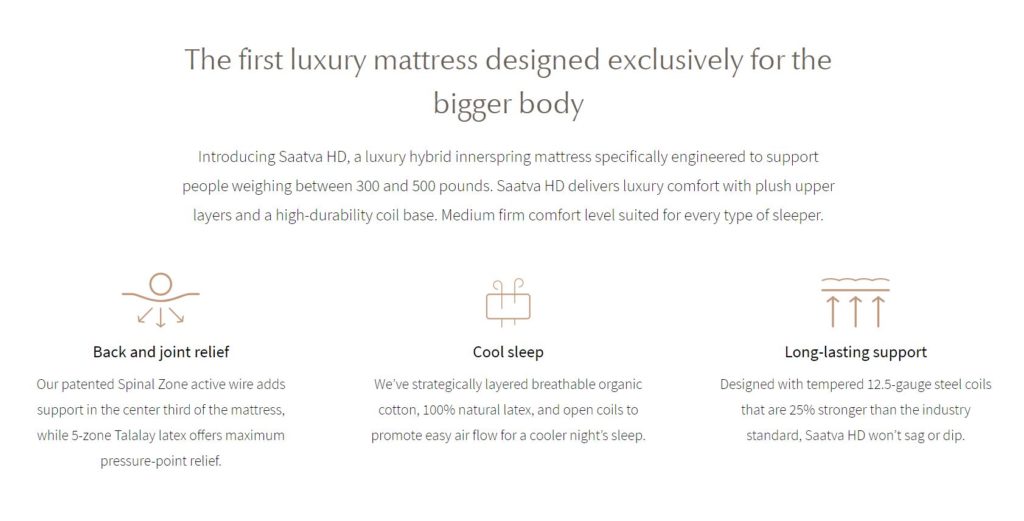 Firmness and Feel
The Saatva HD is a firm mattress rated at 7 on the firmness scale.
The mattress is made with heavier users in mind. The overall feel is a nice balance of sleeping on and sleeping in the mattress.
Mattress Height
The Saatva HD is 15.5" thick. This makes it even taller than most high-profile mattresses.
Such height means there's ample space for a comfort layer packed with foam without sacrificing the amount of space left for coils.
Heavyweight sleepers are especially well supported.
Edge support is also excellent, and you'll find it easy to get in and out of bed.
Verdict
Another exceptional mattress by Saatva.
The combination of bouncy latex and coil layers with contouring memory foam makes for a dynamic structure, one that strikes a satisfying balance between lift and give.
One of the primary advantages of this high-profile model is how easily you'll climb in and out of bed. If you suffer from arthritis or mobility issues, this is especially valuable.
Beyond this, the Saatva HD comes into its own for much heavier users weighing in excess of 300 pounds. If you are in this category, you'll find the HD gives you all the support you need. This could be the mattress that saves the day where others have let you down. Drop us a line and let us know how you got on if you choose the Saatva HD mattress.